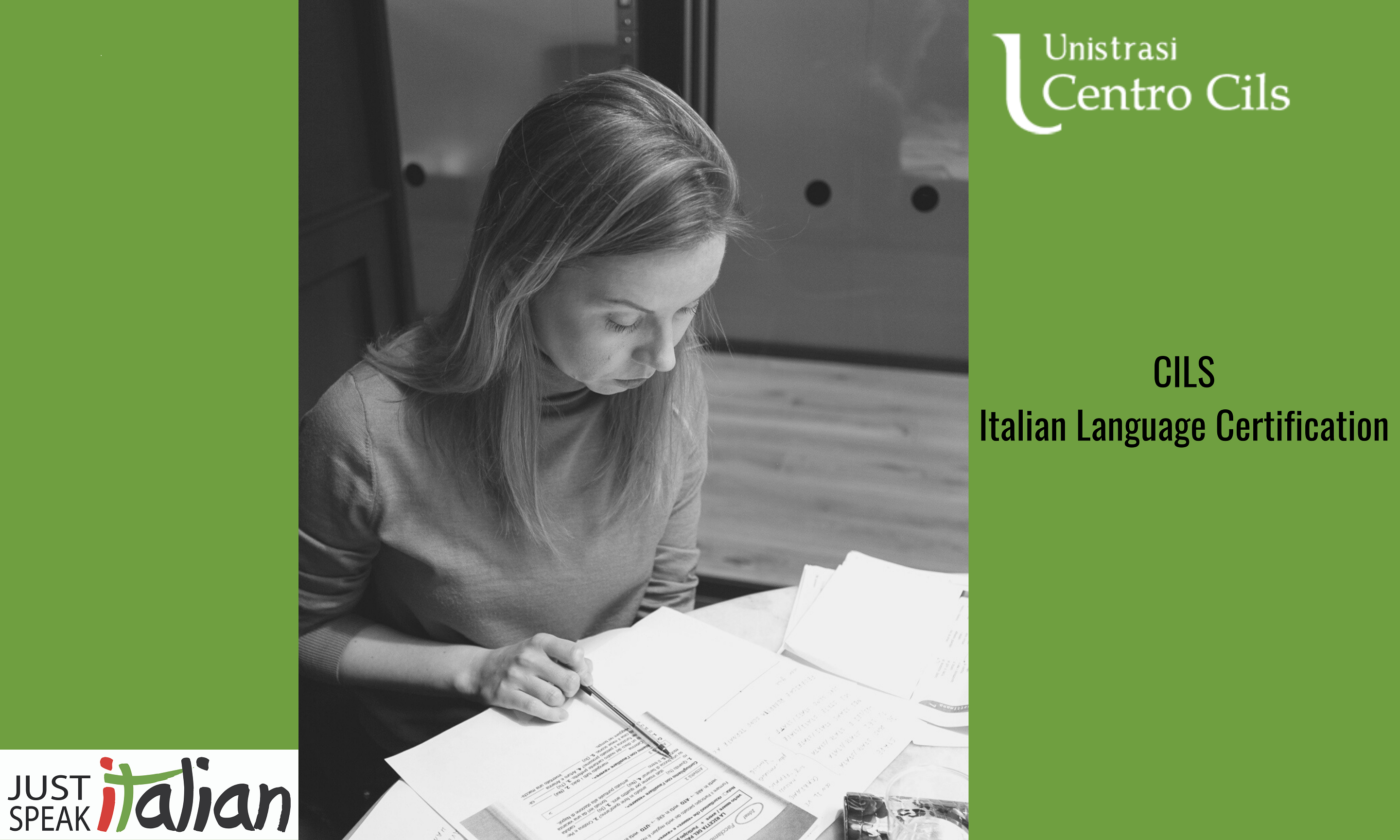 Just Speak Italian is an accredited centre for the CILS examinations and also offers preparation for the CILS exam. The CILS certification is a qualification issued by the University for Foreigners of Siena which declares the level of linguistic and communicative competences in Italian as a foreign language. The exams are designed to assess how learners use Italian to communicate in real-life situations. As a certificate of proficiency, the exam can be taken at each of the six competency levels as defined by the Common European Framework of Reference for Languages:
• CILS A1
• CILS A2
• CILS UNO-B1
• CILS UNO-B1 CITTADINANZA (Italian citizenship)
• CILS DUE-B2
• CILS TRE-C1
• CILS QUATTRO-C2
For each level the CILS exams consists of five parts: listening test, reading comprehension, use of the Italian language, written test, speaking test.
Forthcoming session 2023: 5 December. Registration deadline: 31 October 2023
Registrations will close about 40 days prior to the date of the exams.
Sessions 2024: 11 April, 5 June, 17 October, 5 December.
The exams will take place at Speak Up London, 139 Oxford St, Soho, London W1D 1NB, or in Angel, N1 9PF.
| Level | Fee |
| --- | --- |
| CILS A1 / A2 | £90 |
| CILS B1 Adolescenti | £120 |
| CILS UNO-B1 | £140 |
| CILS UNO-B1 Cittadinanza | £140 |
| CILS DUE-B2 | £150 |
| CILS TRE-C1 | £175 |
| CILS QUATTRO-C2 | £200 |

In addition to the exam fee established by the University of Siena, the cost includes around £40 to cover our administration expenses.
The examination fee and the administration charges will not be refunded for any reason, except if the exam is not activated due to the insufficient number of students. In this case examination fees and administrative charges will be refunded in full.
1. Check and meet the deadline.
2. Send an email at [email protected] with the level of the exam you wish to take.
3. Tell us if you have already sat a CILS exam. If so, please, provide us with your CILS Matricola Number.
4. Provide us with your personal information: full name, place (including Country) and date of birth, citizenship(s).
5. Attach a proof of your valid ID document in PDF.
6. Wait for an email with confirmation and payment details.
7. Pay the fee and send a proof of payment (PDF receipt from your bank's website stating your name and payment reference).
Results will be published on the Università per Stranieri di Siena website within 2 to 4 months, depending on the level and the number of candidates. Students can access their results through their CILS enrolment number (matricola number), and will be able to collect their certificate from us by appointment only.
At Just Speak Italian we offer CILS examination preparation courses. They provide students with an in-depth preparation on the different skills involved in the exam. Past papers will be analysed and examined in order to highlight difficult elements. An overview of the different sections of the exam will be given to students and the main features of the test such as test tasks, item types and assessment criteria will be illustrated.
• CILS Certifications are internationally recognised
• The CILS is awarded by the University of Siena for Foreigners and is recognised by the Italian State as a certification of proficiency in Italian as a foreign language
• It guarantees the assessment of your competence in Italian as a foreign language, based on valid and reliable criteria
• It is chosen each year by thousands of foreigners, young people and adults, in Italy and abroad; the exams open doors to higher education, such as enrolment at Italian universities, improve employment opportunities, and increase choice for study or work, and can be used in any further area in which a certain level of proficiency in the Italian language is required.
For CILS UNO-B1 Cittadinanza please click here.