By Liliana Giovenco
Comments None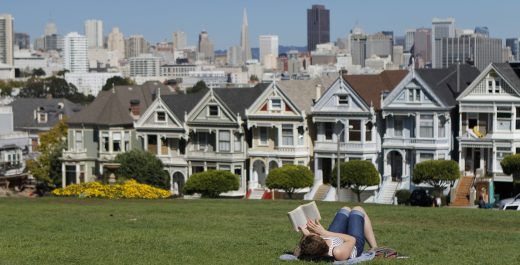 In questi giorni anche a Londra ci stiamo godendo finalmente il sole e un po' di caldo!
Quale migliore occasione durante la stagione estiva per trascorrere un pomeriggio rilassante leggendo un buon libro al parco, in montagna o in spiaggia!
Anche per le vacanze, vi consigliamo di esercitarvi con l'italiano e per fare questo vogliamo suggerirvi dei libri che potreste mettere in valigia, in base al vostro livello di conoscenza della lingua.
Tutti i libri adattati per i lettori stranieri sono acquistabili presso l'Italian Bookshop.
These days in London we are enjoying the sun and a warm weather!
What a perfect occasion during the summer season to spend a relaxing afternoon reading a good book at the park, mountains or at the seaside!
On holiday we also recommend to practise your Italian, and we would like to suggest some books you could pack in your suitcase, based on your level.
All these books for Italian learners are available for purchase at the Italian Bookshop.
BEGINNERS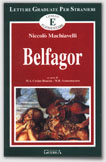 BELFAGOR di Niccolò Machiavelli – Guerra Edizioni
Plutone, re degli Inferi, invia il diavolo Belfagor nel mondo mortale per scoprire se sia vero che le donne sono la causa della dannazione degli uomini. Belfagor viene mandato a Firenze e prende la forma umana ed il nome di Roderigo. Si sposa con Onesta e deve vivere sulla Terra per dieci anni. In realtà, per colpa di sua moglie si indebita e fugge via. Tuttavia, viene coinvolto in diverse disavventure, così conclude che il mondo umano è peggiore dell'inferno.
Pluto, prince of Hell, sends the devil Belfagor to the mortal world to find out weather it is true that women are the cause of men's damnation. Belfagor is sent to Florence and assumes a human form taking the name Roderigo. He gets married to Onesta and has to live on Earth for ten years. Actually, he gets into debt because of his wife and he runs away. Nevertheless, he suffers a series of misfortunes, so he concludes that the human world is worse than Hell.
NEAR BEGINNERS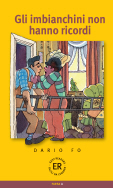 GLI IMBIANCHINI NON HANNO RICORDI di Dario Fo – Easy Readers
Una commedia bizzarra che parla di due imbianchini che vogliono truffare una vedova, che è la padrona della casa dove stanno cercando di ottenere un lavoro. In realtà non sanno che si stanno mettendo in una situazione folle, dato che la vedova tiene prigioniero il marito in casa con un assurdo inganno. Dopo tanti paradossi e colpi di scena, i due imbianchini riusciranno a risolvere il caso?
A bizarre comedy about two painters wanting to cheat a widow, who is the owner of the house where they are trying to get a job. Actually, they have no idea they are getting into a crazy situation since the widow keeps her husband locked up in the house by means of an absurd trick. After lots of paradoxes and twists, will the two painters work it out?
LOWER INTERMEDIATE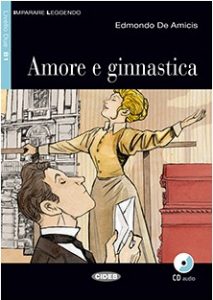 AMORE E GINNASTICA + CD di Edmondo De Amicis – Cideb
L'insegnante di ginnastica Pedani è una donna forte e indipendente che sembra non essere interessata a nessun tipo di relazione amorosa. Tutti a scuola sono attratti da lei, specialmente il segretario Celzani, un uomo timido e tranquillo che perde la testa per lei. Inizialmente all'insegnante Pedani non importa dei sentimenti dell'uomo perché lei crede di avere una missione legata alla ginnastica, ma successivamente inizia ad apprezzare le sue maniere gentili.
The Physical Education teacher Pedani is a very strong and independent woman who seems not to be interested in any kind of love affairs. Everyone at school is attracted by her, especially the secretary Celzani, a shy and quiet man who loses his head for her. At first teacher Pedani doesn't care about his feelings because she believes she has a mission connected with gymnastics, then she starts appreciating his kind manners.
UPPER INTERMEDIATE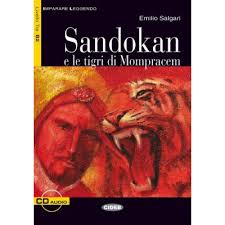 SANDOKAN E LE TIGRI DI MOMPRACEM Book + CD di Emilio Salgari – Cideb
Le Tigri di Mompracem sono pirati ribelli che combattono contro la potenza coloniale britannica sull'isola di Mompracem. Sono guidati da Sandokan, l'indomita tigre della Malesia. Sconfitto in battaglia e caduto in mare, Sandokan viene ritrovato ferito su una spiaggia e portato presso lord James Guillonk e sua nipote Marianna per essere curato. Sandokan e la ragazza si innamorano. Così insieme al suo leale amico Yanez de Gomera, Sandokan cerca di allontanare Marianna dallo zio.
The Tigers of Mompracem are rebel pirates fighting against the colonial power of the British empires on Mompracem island. They are led by Sandokan, the indomitable Tiger of Malaysia, who is defeated in battle and fallen into the sea. He is found injured on the shore and took to lord James Guillonk and his niece Marianna's who will take care of him. Sandokan and the girl fall in love with each other. Then, together with his loyal friend Yanez de Gomera, Sandokan tries to take Marianna away from her uncle.
ADVANCED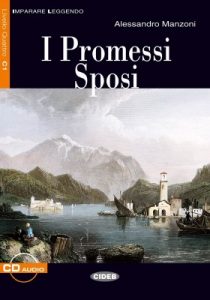 I PROMESSI SPOSI di Alessandro Manzoni  Book + CD – Cideb
Due giovani innamorati, Renzo e Lucia, sono obbligati a rinviare il loro matrimonio per colpa del signorotto locale, Don Rodrigo, che desidera Lucia per sé. Don Rodrigo manda i suoi "bravi" (criminali che lavorano per lui) dal parroco, Don Abbondio, per avvertirlo di non celebrare il matrimonio, poi cerca di rapire Lucia ma il suo piano fallisce. La coppia deve separarsi per proteggersi e deve affrontare molti ostacoli e pericoli, fra i quali la peste e la prigionia, prima di potersi ricongiungere di nuovo.
Two young lovers, Renzo and Lucia, are forced to postpone their wedding because of the local squire, Don Rodrigo, who desires Lucia for himself. Don Rodrigo sends his two thugs to the parish priest, Don Abbondio, to warn him not to perform the wedding, then he arranges to kidnap Lucia but his plan fails. The couple has to separate each other to protect themselves and has to face many obstacles and dangers, among which plague and imprisonment, before they can be reunited again.